Engelsk: Lær sprog i det grønne
English Level 4 - 5 +
● Tired of yawning your way through conventional classroom language lessons?

● Already understand a lot of English but often get "tongue tied" when it's your turn to speak?

● Want to improve your English conversation skills in a stimulating, un-pressurised, supportive way?

Then join English Outdoors!

What are the requirements?

● This particular course is for participants at "intermediate level, i.e. FOF's level 4 or 5 (B1 or B2) or above.
Please use the FOF language level descriptions to work out your level, and you are also welcome to contact Sara to arrange a 10 minute, friendly level-assessment chat.

● You must be physically able to walk 3 - 4 km at a reasonable pace.*

How long is the course and each session? There are 6 sessions, each lasting 1.5 hours.

How big is the group? There will be 6 to 10 participants.

Where will we meet?

Each session starts at a different predetermined meeting point in the central Vejle area and finishes at the same point.** Meeting location details will be sent to you after you register. Here is an overview:

Session 1: Grejsdal
Meet at the corner of St Grundet Skovvej/Beriderbakken. Free parking in front of S1, Beriderbakken 28, 7100 Vejle (3 hours' free parking with P-disc/"P-skive")

Session 2: Fjord
Meet at the entrance to Vejle Kayak Club, Stævnen 47, 7100 Vejle. Free parking at Stævnen 31, 7100 Vejle ("Vejle Lystbådehavn") for 3 hours with P-disc/"P-skive"

Session 3: Kongens Kær
We meet at Vejle Center Hotel, Willy Sørensens Plads 3, 7100 Vejle. Free parking in Willy Sørensens Plads for 3 hours with P-disc/"P-skive" (in the 3 hours zone).

Session 4: Nørreskov
Meet at the Multi-court ("multi-bane") at Tommy Troelsens Park, Steensens Vej 7, 7100 Vejle. Free parking for 3 hours' with P-disc/"P-skive" along Steensens Vej.

Session 5: Trædballe
We meet opposite Vejle FC, Vestbanevej 1A, 7100 Vejle. Free parking along Vestbanevej.

Session 6: To be confirmed (Vote for your favourite route!) :-)


What do I need to bring/wear?
● Comfortable, layered clothing with suitable shoes
● Waterproof jacket
● Water bottle

What will we do?

Each session includes:
1. A physical warm up (simple stretches & focus on breathing) and linguistic warm up (simple word games)
2. An explanation & demonstration of the first communicative task. (Divide into pairs)
3. A midway stop for questions and feedback
4. An explanation & demonstration of the second communicative task. (New pairs)
5. An end-of-session "cool down" for feedback/reflections/takeaways

*English Outdoors supports opportunities for all: Courses can be tailored to a variety of physical abilities (including those using wheelchairs or other movement aids). Please contact Sara to talk about possibilities for "differently abled" individuals and groups.

**In case of heavy rain or stormy weather, the session will be relocated to Spinderihallerne/Kultur Museet, Vejle.

Want to know more about the benefits of training your language skills outside?

There is a growing body of research which supports the benefits of learning while moving in nature. And this is very much true for learning a language.

Spending time in a natural environment regulates our nervous system: our cortisol levels are reduced and dopamine levels are boosted. The result is that communication, motivation, memory function, creativity, attention and focus all improve. The result is that we can understand more, say more and remember more.

An added advantage (compared with traditional classroom learning) is that by walking side-by-side, shoulder-to-shoulder the pressure of performance in face-to-face communication is off, allowing for more natural pauses and thinking/processing time, which is so important when learning a language.

I'm really looking forward to meeting and talking with you and helping you on your language journey!
Please get in touch with me on sarapeterman.sp@gmail.com if you have any questions.
Information
Dato

25.10.2023-29.11.2023
Datoer
Dato
Tid
Sted
Navn
1

Onsdag 25.10.2023

10:00-11:30

Se mødekalender - Vejle

Sara Peterman

2

Onsdag 01.11.2023

10:00-11:30

Se mødekalender - Vejle

Sara Peterman

3

Onsdag 08.11.2023

10:00-11:30

Se mødekalender - Vejle

Sara Peterman

4

Onsdag 15.11.2023

10:00-11:30

Se mødekalender - Vejle

Sara Peterman

5

Onsdag 22.11.2023

10:00-11:30

Se mødekalender - Vejle

Sara Peterman

6

Onsdag 29.11.2023

10:00-11:30

Se mødekalender - Vejle

Sara Peterman

Se alle Se færre
Holdnr. 239309
Engelsk: Lær sprog i det grønne
Onsdag 25.10.2023
10:00-11:30
Se mødekalender - Vejle
Sara Peterman
6 gange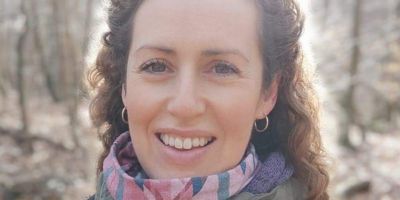 Underviser
Sara Peterman
Hi and welcome everyone!
I'm Sara.
I have over 20 years' professional experience helping people like you to live and work more confidently, through teaching, facilitating, events and community building, so you can navigate and thrive in both your local and international contexts.

I am a trained language teacher (Cambridge University), lifelong learning specialist (Aarhus University) and believe in the power of responsive, collaborative and community-based learning experiences to add real value to our lives.

I am fascinated with the powerful connection between being active in nature and our brains: Moving outside really does help us learn and develop. And that is how English Outdoors was born!

I'm originally from the UK and now live in Vejle with my Spanish husband and our two kids, both born in Denmark. I have lived "cross-linguistically" my whole adult life: working, studying, travelling and socialising with people with a multitude of language backgrounds and abilities.

So, join me: let's move our bodies and move our minds; let's walk and learn language together!